Three Key Personal Tracker SNK-PT-200
A Personal Tracking System allows you to monitor your loved once like kids & aged parents and locate them in any emergency. Personal tracking can help you keep eye on your teen driver accountable and it gives your family peace of mind. In today's congested lifestyle we understand you want something that is useful, simple and functional, yet private and secure.
A GPS tracking system can allow you to keep an eye on your aged parents. It can help you locate them if they get lost or in the case of an emergency. A GPS locator can give you an extra layer of protection and safety for your loved ones.
Features

In-built Antenna
The GPS and GSM modules as well as antenna are integrated inside the tracking unit case. Most other products have GPS & GSM antenna as external wires. These wires can be tampered or unscrewed easily which make It an insecure installation.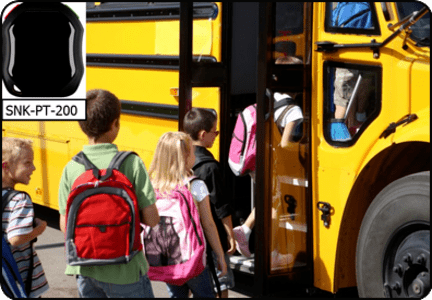 Live GPRS support
You may find some products in the market that call themselves Personal Trackers. These devices are for personal security only. They do not have 24hrs Live GPRS connectivity capability and features related to Vehicle tracking. They are only for personal use and lack important features.
Inbuilt Memory
GPS tracker has inbuilt memory to save large number of logs like a GPS data logger.It can save upto 90000 logs in its memory. Though these logs can be only downloaded to PC. But in case you want to check the last 1 month path followed by the vehicle, you can download the logs and find the same.
Built in motion sensor
This allows the unit to be mounted in any position.It can automatically detect if the vehicle is stopped and will switch some functionalities off so that Battery life can be increased.
Power On/ Off switch
It has simple switch that can put the device on/off. This prevent battery drainage when you do not need the device to function.
Microphone & Headphone ( Optional )
So the user/driver can talk to control center who can call the device. Voice capability need that your SIM plan has Voice activated. Default SIM plans have Voice Deactivated. headphone is only for speakers and Mic in already inbuilt.
Easy & Multiple Charging Methods
GPS Tracker support several charging methods on the go. You can charge it with its mains Charger that support universal 110-240VAC input meeting both Indian and international standards. Secondly it comes with Car charger to be charged in car easily while traveling.
INSTANTLY LOCATE ANYONE ANYWHERE
USE A CELL PHONE, TABLET OR COMPUTER
Benefits

Students.
Marketing & sales Staff.
onsite support staff.
Aged parents & kids.
Items

Specification

Dimension
50mm x 50mm x 15mm
Weight
50g
Network
GSM/GPRS
Band
850/900/1800/1900MHz
GPS Chip
UBLOX
GPS sensitivity
-165dBm
GPS accuracy
5m
Time to First Fix
Cold status 35-80s
Warm status 35s
Hot status 1s
Wall Charger
110-220V input
5V output
Battery
chargeable changeable 3.7V 100mAH Li-ion Battery
Standby
240hours
Storage Temp.
40°C to +85°C
Operation Temp.
20°C to +55°C
Humidity
5% - 95% non-condensing
Support Help Line :
+91 8824866866 (INDIA),
+1-877-346-6006 (US/CANADA)
Sales: +91 9829073554, 9660094554