School Bus Tracking System
Security of School Children is a matter of concern for the School Management and Parents. Sonik GPS fleet tracking systems provides the ability to optimize routing and incorporate real time operational needs while the fleet is on the move. The anytime-anywhere, internet enabled fleet tracking & management solution by Sonik GPS offers all this and much more.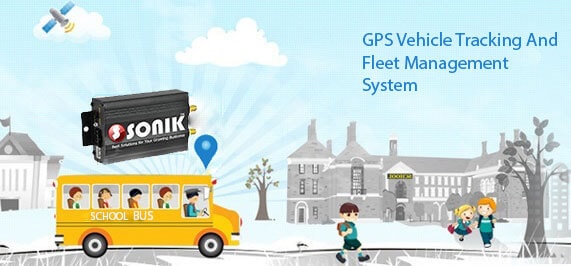 Other features include configurable alerts for when the ignition is turned on and off, a tether switch to SMS or email specific recipients if the rider is thrown off the Bus, a vibration sensor that can tell if the Bus is moved without being turned on, and Geofence and speed alerts.
Why need Sonik GPS system in School Buses ?

Real Time Fleet Tracking Whole Fleet can be seen in real time at the locations they are on that point of time. These vehicles may be at any place on the Globe.
Route Planning: For any individual vehicle you can see the complete route and the time sheet it followed for any time interval during last one month. By just clicking on the balloon not only it will be known where the vehicle is at any point of time, but also its speed at that time will be indicated.
Geo-Fencing: enables you to get alert in case the vehicle moves in or out of it.
Web Parents Portal Parents can be seen in real time at the locations they are on that point of time. These vehicles may be at any place on the Globe.
Theft recovery If a cab is stolen, its whereabouts will be known if it is equipped with a vehicle tracking system.
Track lost parcels: If a customer leaves luggage, a laptop or umbrella in a taxi, a location and time are all that is needed to narrow the search to a few vehicles. GPS tracking systems record a detailed travel history.
The Fleet Operators: Driver in case of any emergency can also send SOS. The device by Sonik GPS have the number of optional features like Fuel Monitoring ,A/C Monitoring, Stopping of the vehicle by Sending SMS from the owners cell phone in case of theft of the vehicle, setting speed alert etc.
Increase safety: As our system provides 24 * 7 live vehicle tracking With the help of our vehicle tracking system, your vehicle can be quickly located if it is stolen
Theft recovery: If a cab is stolen, its whereabouts will be known if it is equipped with a vehicle tracking system.
Quick Emergency Support Possible: whenever there is a requirement of location identification in case of an emergency, we are just a call away.
SEND INQUIRY
Specification

GSM 850/900/1800/1900MHz
GPRS:CLASS12,TCP/IP
GPS Location accuracy:10m
Working environment temperature:-20~70°C
Working environment Humidity:20% - 80% RH

Functionality

You can track your speed and review this at any time
You can track your speed over distance
You can track your a latitude
You can view your exact route in normal map mode, satellite mode and street view
The history function shows speed, direction, street, road or lat/long, altitude, distance traveled between pings etc
The tracker is very lightweight


Support Help Line :
+91 8824866866 (INDIA),
+1-877-346-6006 (US/CANADA)
Sales: +91 9829073554, 9660094554