Android Phone Tracker Ver 1.1
Using this Application you can locate your children/women/Parents/staff , keep tabs on teen drivers, track down stolen items, and know the whereabouts of elderly or disabled loved ones. No need to buy extra hardware , Just install a small app in your android phone and start to track it immediately with one year history data backup.
Best App for Kids Tracking Women Safety for 24*7 Mobile User will be notified if his/her mobile phone will be tracking using this software to prevent misuse of application.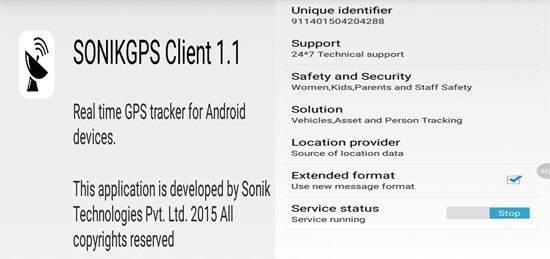 Use your Android as Secret GPS Tracker

App appears to be "Battery Saver" on mobile screen
Enter code: 00000554 to unlock the app
Track your device online in real time
Geofence notifications
Over-speed alerts
Recover lost phone
Personal safety
Track people you care
History & reports
Business fleet management

Features

Works where other systems fail.
Can be discreetly mounted under vehicle.
Geo-Fence alerts you when vehicle arrives or departs a predetermined area.
Available to approximately 98% of the US population.
Supports simultaneous multiple case management.
Device functionality alerts (coverage & battery life).
SEND INQUIRY
Specification

Requires Android :-1.5 and up
Size :-63kb
Current Version :-1.1
Offered By :-SONIK Technologies Pvt. Ltd
Support Help Line :
+91 8824866866 (INDIA),
+1-877-346-6006 (US/CANADA)
Sales: +91 9829073554, 9660094554