Android Phone Tracker (Hidden Version 1.22)
To start tracking install the app, inform us to support@sonikgps.com with Device Imei and turn the tracking service switch on. We will send you your Login details to your email id.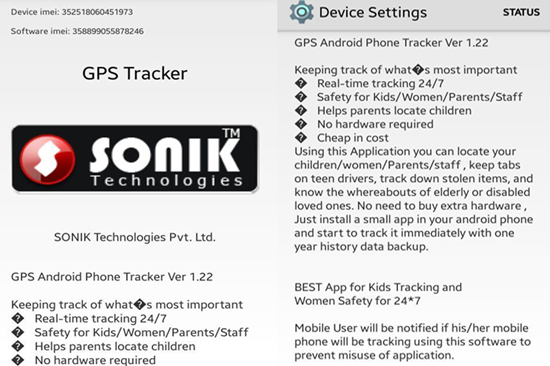 This version a special hidden version. It includes modifications to make the application less visible to the phone's owner. After first minimize, the app removes itself from the launcher.
Benefits

Find Your Phone – check the app's Web site to find a lost device.
Stay Connected – discover your friends' whereabouts at any time simply by checking the location.

Features

Real-time tracking 24/7.
Safety for Kids/Women/Parents/Staff.
Helps parents locate children .
No hardware required.
Cheap in cost.
SEND INQUIRY
Specification

Requires Android :-1.5 and up
Size :-63kb
Current Version :-1.22
Offered By :-SONIK Technologies Pvt. Ltd
Support Help Line :
+91 8824866866 (INDIA),
+1-877-346-6006 (US/CANADA)
Sales: +91 9829073554, 9660094554